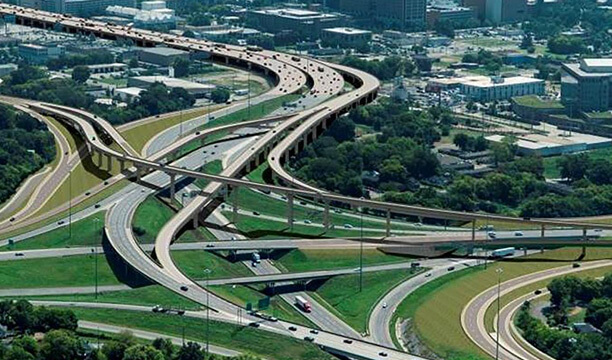 In April of 2016, the Alabama Department of Transportation (ALDOT) engaged KMS to provide project controls support for their largest project to date: the demolition and replacement of multiple elevated bridges between Red Mountain Expressway, Malfunction Junction, and the I-59/I-20 Interchange. As these bridges were nearing the end of their life cycle and taking on more traffic than originally intended, ALDOT made the decision to not only replace these bridges but at the same time, take the opportunity to improve traffic flow at these intersections.
The project includes four phases: Phase A, Phase 1, Phase 2 and Phase 3. Phase A and Phase 1 consisted of bridge replacements at 31st Street and 12th Avenue, as well as three bridge widening projects on I-65N. To aid in delivering the remaining phases, ALDOT reached out to KMS to help manage Phase 2 and 3, which included a vast amount of construction with a total of 32 new bridges and bridge widening projects.
ALDOT Engages KMS for Project Controls Solutions: Schedule Evaluation, Traffic Impact Coordination and Project Reporting
Schedule Evaluation
Challenge: Due to the complexity of Phase 2 and 3, ALDOT realized they had to utilize a more sophisticated method of schedule management. In the past, a simple spreadsheet was sufficient for managing scheduled activities, but since this project was so much larger, they required the contractor to use a very robust scheduling software called Primavera P6. The problem was that ALDOT had very limited resources and experience related to implementing Primavera P6 on any past project.
KMS Solution: Taking a simplistic approach, we worked with the project team to identify the key activities that required focus and would clearly highlight the necessary progression that would ensure a timely completion. While this process started with a spreadsheet, it has evolved into so much more.  We're able to export data from Primavera P6 and integrate it into a spreadsheet so we can efficiently compare the schedule data against what has actually occurred in the field.
Traffic Impact Coordination
Challenge: With the process of demolishing, rebuilding and widening a bridge having the ability to greatly impact the flow of traffic, the project required assistance with traffic impact coordination. This included scheduling and preparing for lane or interstate closures. While ALDOT had a system in place for gathering traffic information and submitting it internally for reporting and distribution, this project with all the moving parts needed additional support.
KMS Solution: Acting as the project's traffic impact coordination liaison, we worked with all parties to develop a very robust, yet user-friendly, spreadsheet that we would send to the contractors. They would fill it out, select the location and give us the times for the closures. Once we received the information, we would assist in the report preparation and confirm all data against the contract requirements to ensure compliance. If the contractor did not operate within the contract requirements, they would be open to fines for none compliance. This process has become beneficial to all parties. 
Project Reporting

Challenge: The contract between ALDOT and the contractors required the contractors to submit a monthly schedule update that would allow ALDOT to track their progress. At the same time, ALDOT wanted the ability to compare what was being performed in the field against what the contractors were reporting.
KMS Solution: We developed a process that consisted of taking the contractors' schedule on a monthly basis and analyzing it against the work that they had performed in the field. In order to do this, our team has "boots-on-the-ground" every day, monitoring the schedule activities. We would provide a monthly performance report, which included the percentage of scheduled activities completed, so the team could clearly see if the project was on track.
We have also been heavily involved with communications management on the project. Due to the complexity of this project, the meeting minutes and action items play a key role in ensuing all parties are properly informed. We are the primary drivers of this process.
Throughout this project, we've been able to capture a ton of information and put it into a simplified order, and that's exactly what we do as a company. While there are a lot of typical processes in construction, we like to think outside the box, and we really pride ourselves on providing innovative solutions to complex issues.  Even when we've found a process that seems to work, we're constantly challenging ourselves, asking if this is the most efficient and effective way to accomplish the task at hand. We are never satisfied with the status quo. We're always looking for innovative ways to add value and better serve our clients.
Kemp Management Solutions is a program management and consulting firm dedicated to providing our clients innovative, personalized process solutions for large projects or programs — without ever compromising our client's vision. We're committed to delivering customized solutions for our partners through innovation, integrity and collaboration. Contact us to learn more about who we are and how we can be an asset to your next project.